Studio Personal Training for Vaughan Residents & Businesses.
Congratulations, either this is the first time you are joining a fitness facility, or you have been exercising for a few years and are familiar with the ins and outs of gyms?
Being a member of a gym, or fitness facility is one of the components of exercising but knowing how to exercise properly, safely and for your own specific and tailored body type is an art and can sometimes take hours and even years to perfect.
Why do millions of people all around the world either pay for gym memberships but don't go, buy home gym equipment and don't use it or collect hundreds of books, magazines or any other researched materials to help them make sense of it all and yet so many people don't stick to it or have a clue where to start?
For someone wanting to adopt a health and fitness regimen for the first time, or for someone just getting back into the swing of things, joining a fitness facility or working out in public can be a bit of a scary idea.  That's why Pure Motivation Fitness personal trainers make it easy to start, stay motivated and get results.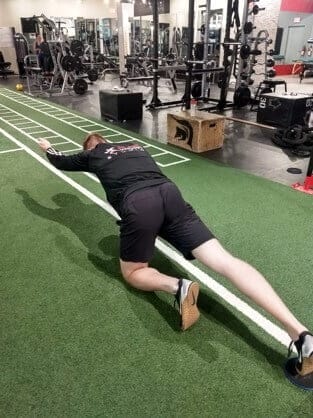 "It's a fact that countless people avoid getting into a health and fitness routine because they feel self-conscious and distracted by bustling high volume, industrial big box gyms where it's more of a meat market or social club and important to look or act cool vs. exercising and getting results", Dimitri Giankoulas the owner admits.
These feelings are natural and perfectly understandable. And PMF has the solution for you – In-Home Personal Training. This premium service eliminates your concerns and allows you – and PMF – to place full attention where it belongs – on you.   Take advantage of our STUDIO –Personal Training program as a short, mid- term or long-term commitment to your health, or until you feel like you are ready to continue exercising on your own.
Hiring a Studio Personal Trainer is Safe, Time Efficient, Cost Effective and a Realistic approach when intensity, knowledge or time is a factor in your life.
Just imagine the increased Motivation, Attention, Intensity and Results you will get by hiring a STUDIO- Personal trainer!
Learn how to safely and effectively use all Commercial and Plate Loaded Strength, Machinery and Small Apparatus Equipment.  Discover how more efficient your training will become by actually knowing how to properly use the Stability Ball, Bosu Ball and TRX training apparatus.
All you need is a bottle of water and an attitude to get results! We take care of the rest. Do not worry about COVID-19 as we have the smallest fitness classes and overall feel that we are the safest gym in the Vaughan area.
Best Fitted For Clients Who:
Are not Motivated on their own to begin, keep or maintain actual exercise
Own their own company and can't afford to waste time
Have outgrown, out challenged their mini in home gym
Don't know how to safely or effectively use equipment
Have extreme or unpredictable demands on their time
Seeking to rehabilitate an injury, accident
Are pre-or-post natal and wishing to exercise
Intimidated to train in a group or on their own
Want to increase their intensity or current exercise knowledge
Have children that are either overweight or require elite training