As much as we may hate to say it but there is a famous Greek saying that goes, "Μπορείτε να επιλέξετε τους φίλους σας, αλλά δεν μπορείτε να επιλέξετε την οικογένειά σας" (translated it means you can choose your friends but you cant choose your family).  In life, there will be situations where people, co-workers, vendors, friends, your neighbours even you family may upset you, cause you grief even do things to hurt you without even knowing it but life too short to hold grudges, keep anger inside of you and hold onto regret.
People will come and go, and we hope to God that your family will always be there to help, protect and love you but in the end all you can really do is try your best to make peace and love in every relationship you have and make peace with everyone around you.  If you don't, and you begin to build up neglect, anger, resentment, hate or despise others the only person you are truly bringing negativity or stress to is yourself and can never know if you tomorrow is your or their last day on this Earth.
So, instead of being angry and bottling up negative emotional thoughts, smile, be polite and try to use diplomatic conversation with whomever you are dealing with or whatever situation you are in as nothing positive can ever become when you, personally, are holding on to evil, negative and angry emotion.  Life is short, try to make peace with everyone around you, you never know how much of an impact it can have for you, them and the entire universe around them.
Hope you enjoyed this short email and remember…Attitude is Everything,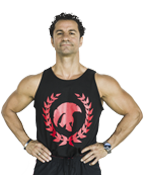 Dimitri Giankoulas
P.S. WHENEVER YOUR READY, HERE ARE 4 WAYS I CAN HELP YOU, YOUR FAMILY & CO-WORKERS MAXIMIZE THEIR FITNESS GOALS!
1 – SECRETLY REFER A FRIEND OR FAMILY MEMBER IN NEED OF FITNESS! We ALL have that person in our lives that REALLY needs to be more fit, lose unwanted and dangerous visceral fat & get started on a fitness program if its been advised by their Doctor, their peers or you!  But getting them to start can be challenging and often awkward to bring up!  So why not send them a FREE 1.5h Fitness Assessment session with one of our staff and help make that first step easy by clicking here: https://www.landpage.co/freefitnessassessmentappt
2 – GRAB A FREE COPY OF MY E-BOOK
I'd love to help fast track your Anatomy knowledge and teach you how to "Eat Right, Train Right for your Body Type" by having you download our FREE "Body-Type"E-Book by clicking here: https://www.puremotivationfitness.com
3 – LETS SCHEDULE A "FITNESS DISCOVERY CALL"
Fitness, Personal Training & Nutrition Counselling is my life's work!  I was born to Motivate, Educate & Inspire so lets help you book a 15min Fitness Discovery Call (or if your really serious and want to fast track) a Fitness Assessment so we can help you solve any Exercise, Nutrition or Motivation problems you may be having by clicking here: https://go.oncehub.com/DimitriGiankoulas
4 – LETS SCHEDULE A FREE "45min LUNCH & LEARN" AT YOUR WORK Public speaking is my passion and favourite thing to do.   PMF has been providing educational and empowering "Lunch & Learn" seminars to both small & large corporations in the GTA for over 10 years and we guarantee to make your staff more educated, more confident and learn to perform our secret 5 seated desk stretches throughout their day that elevates neck & back pain and encourages perfect posture.  To determine what exactly you would like us to help your organization with click here to book a 15min call: ttps://go.oncehub.com/DimitriGiankoulas
*
Unsubscribe |Pure Motivation Fitness Studio | 1410 Major Mackenzie Drive Unit C1 , Vaughan, Ontario, L6A 4H6